Chum Creek Hut Accommodation
Chum Creek Horse Rides & Huts have two Huts.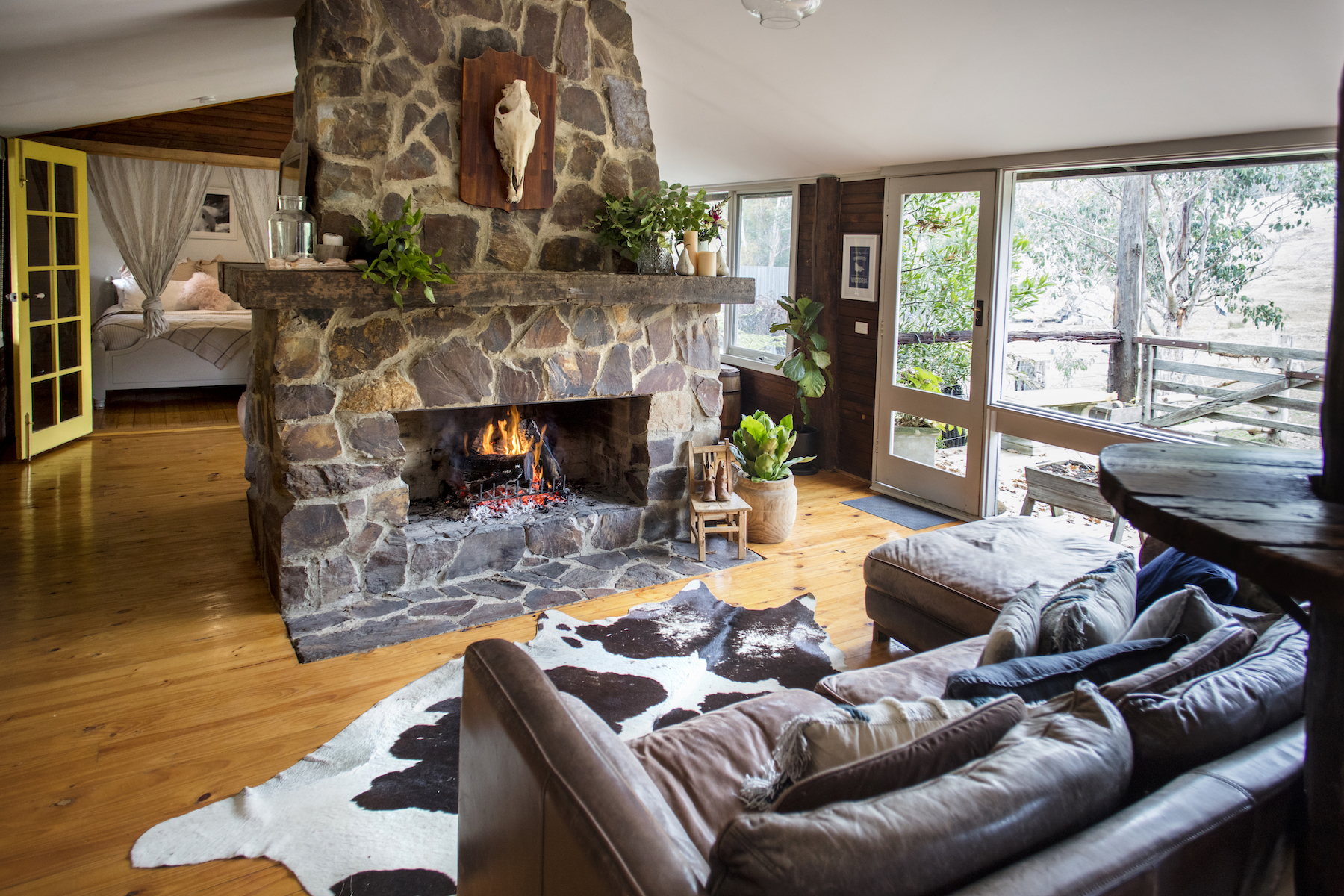 The Chum Creek Hut 1, with the Yarra Valley's biggest and best fireplace, sleeps 6 people.  (Chum Creek Hut 1)
Chum Creek Horse Rides & Hut is located in a beautiful Yarra Valley on a 136 acre working farm that backs onto the adjoining 83,000 Toolangi State Forest, amongst abundant wildlife. Chum Creek Horse Rides & Huts is only 1 hour from Melbourne CBD and Melbourne airport.
We are blessed with an abundance of wildlife that share our property such as wombats, kangaroos, wallabies, echidnas, eagles, various native water birds and even wild deer. There are great walking tracks into the adjoining 83,000 acre Toolangi State Forest with spectacular views across the Yarra Valley and Great Dividing Range.
Your hosts live on this 136 acre working farm, however, our residence can't be seen or heard from the Chum Creek Huts so you can enjoy some peaceful privacy. We only pop in and say hello if you need something otherwise we leave you to enjoy your stay. We simply provide a code for the front door to let yourself in.
We have put a lot of love into making Chum Creek Horse Rides & Huts a pretty special place. We feel very blessed to live at Chum Creek, and are happy to share this green idyllic place only with those that are as grateful and appreciative as us.
We are simple folk, so if you are looking for high volume style fast-paced accommodation, then best go elsewhere.
We also operate a Horse Trail Riding business on the property, using Australia's most experienced guides. Chum Creek Huts and Horse Rides most popular horse trail rides are our 2.5 hour Yarra Valley Mountain Hut Wine Tasting Ride and our famous 1 Day Yarra Valley Pub Ride.
Paige Stunning property August 15, 2016 We had a lovely relaxing time at Chum Creek Hut. It was the epitome or relaxation with the beautiful fireplace, spa and big comfy couch. Our almost 2 year old also loved feeding the horses and seeing the other wildlife at the property. Highly recommended.
Catherine responded to this review August 16, 2016 Thanks Paige. We really appreciate it when people take the time to write a review. Thanks for leaving the hut so clean and tidy as well!
Paige Alexis Charming cottage in an idyllic spot! July 25, 2016 What a cosy and comfortable cabin! The location is great, with a stunning vista. The cabin has a beautiful fireplace and bathroom, and the beds are so comfy. We all had a wonderful time, and can't wait to come back and do some horse riding! And a big thank you to our lovely hosts too!!!
Catherine responded to this review August 16, 2016 Thanks for writing a review Alexis. Love meeting such fab people like you guys. The boys missed their new mate! x
Blair Just loved Chum Creek! April 26, 2016 We had the best time staying here — I can't say enough about the location, the cabin and the very helpful owners (who put on a horse ride for me with no notice!). It had everything we wanted and needed. We'll be back – again and again!
Catherine responded to this review April 28, 2016 Blair thanks for taking the time to write such a lovely review…and for leaving a very thoughtful thank you note in the Hut. We really appreciated it! See you next time. x
Robyn A truly lovely cottage in an ideal spot April 21, 2016 We stayed at Chum Creek Hut for two nights and had the most lovely stay. The cottage and farm is set in an idyllic location – rolling hills, bush and lots of animals. The cottage itself had everything you could want, nice furnishings and much attention to detail. We loved the fact that the horses, large and small, dropped by for the odd carrot and pat….really nice! It's also very close to Healesville and all the Yarra Valley wineries, so lots to do.
Catherine responded to this review April 28, 2016 Thanks so much Robyn! It was such a pleasure having you three stay. Feel very fortunate to meet such wonderful people who come and stay at Chum Creek. x
pam Beautiful, Rustic Charm Cottage March 21, 2016 this cottage is in a beautiful country setting with horses at your front and back door. The cottage is clean and cosy and well stocked. there is beautiful bedding, rustic country charm and an impressive fire place and huge spa bath. After a weekend here you will feel as though you have had a weeks holiday its that relaxing.
Catherine responded to this review March 28, 2016 It is great to see families come away together for some quality time. Thanks Pam for your lovely review and for leaving the Hut so clean and tidy. It was a pleasure having you. x